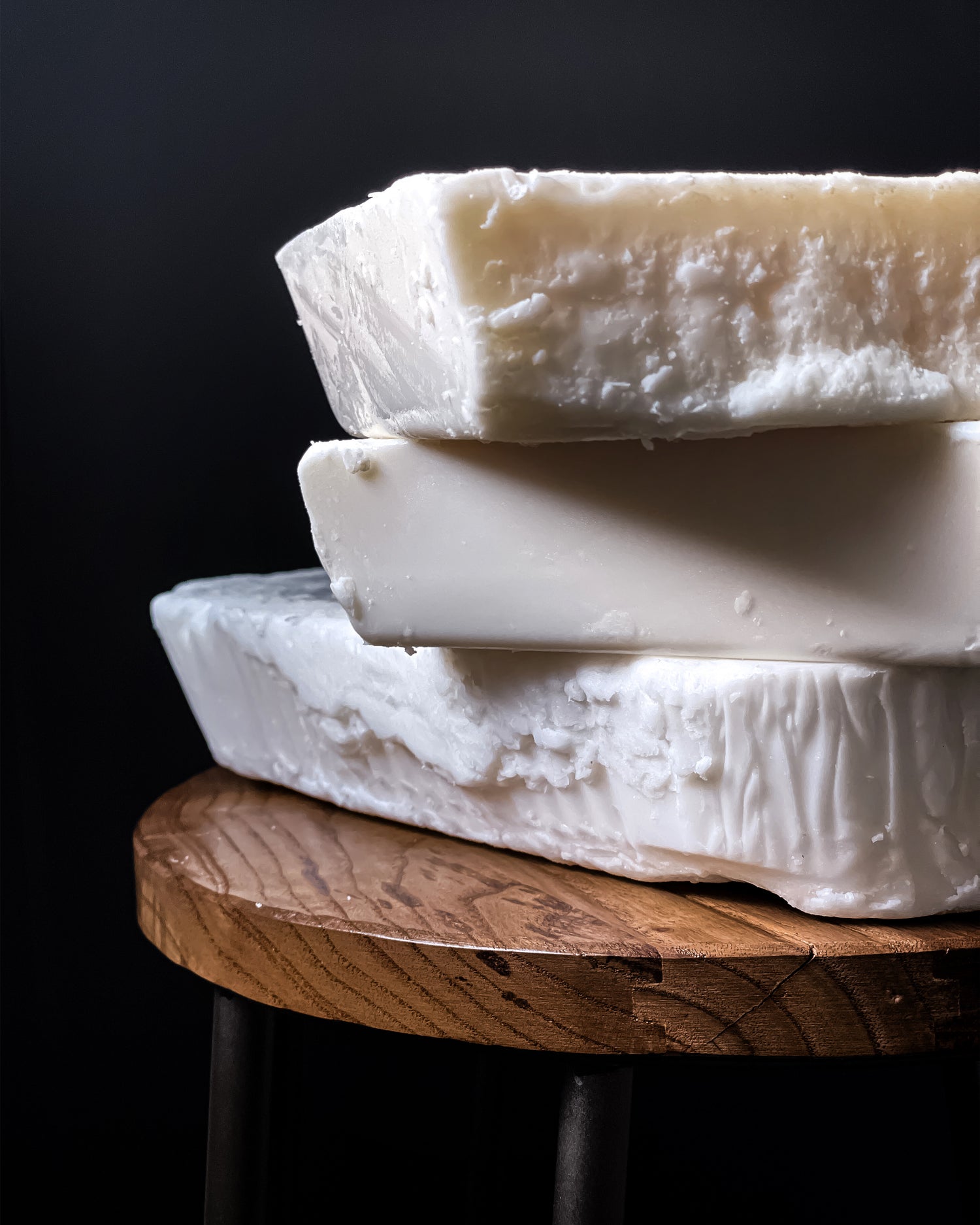 WHY CHOOSE US?
Did you know that many mass-produced commercial candles contain toxic chemicals that are emitted into the air when burnt?
Neither did we until we got into candle-making! 
At LUHO CANDLE CO. we want to be transparent with what goes into your luxury candle. LUHO candles are free of artificial dyes, parabens, phthalates, and animal-derived products - so you can breathe easy!
We've included more information about our materials below.
We hope you choose us! :)
OUR MATERIALS
OUR COMMITMENT TO BEING ECO-FRIENDLY 
OUR WAX
COCONUT-APRICOT WAX

After many months of testing different types of waxes, we landed on the one that worked the best for us: NATURAL, NON-TOXIC, AND SUSTAINABLE, COCONUT-APRICOT WAX!

Made of a luxurious blend of creamy coconut and apricot waxes, with a tiny bit of highly refined food-grade paraffin wax, it is one of the slowest-burning waxes out here, meaning you'll be enjoying your LUHO candle for a long time! It is a clean-burning wax, meaning it produces no harmful chemicals when lit up and ensures an even candle burn with less maintenance. Unlike other natural waxes that often have pitted tops, when coconut-apricot wax solidifies, you get a beautiful smooth top. Additionally, it has an excellent scent throw, doesn't produce a lot of soot like other waxes and performs more consistently with natural wood wicks providing a stronger, more reliable burn/flame than soy wax. 

It was important for us to use eco-friendly materials in our luxury candles to better the planet and as a biodegradable and renewable resource, coconut-apricot wax was the one for us!

We also chose this premium wax because we wanted to stand out from all the 100% soy and coconut-soy wax candles, showing folks a better, luxury alternative!
WAXES WE DO NOT USE

SOY WAX:

All of the 100% soy waxes we tested with (including coconut-soy wax blends) consistently left us disappointed. They did not hold or throw fragrances well and gave us ugly pitted and/or frosted tops (white crystalline layer on the surface of the wax) when they solidified.

BEESWAX:

When it came to beeswax, we wanted to support bees and beekeepers, but unfortunately using beeswax is not vegan. 

PARAFFIN WAX:

And finally,  we definitely did not want to use the wax that big, commercial companies use which is paraffin wax. It is a cheap mass produced wax that does give THE BEST scent throw of any wax. But, paraffin wax is a by-product of petroleum (a non-renewable resource) from the oil industry, and when burned, it's been said that this wax can release carcinogenic chemicals into the air that are hazardous to our health. So we've chosen not to use it as our wax. 

Of course, we are not experts on everything about the wax industry and encourage you to do your own research! We recognize that every type of wax may have some drawbacks regarding the environment. With that being said, we aim to continue monitoring the extraction process of coconut-apricot wax to ensure ethical standards are met as demand continues to increase. We understand that the road to pure sustainability is beyond our reach, but every step counts! 
OUR WICKS
WOOD WICKS

LUHO tin and jar candles use natural, clean-burning, crackling wood wicks sourced from Forest Stewardship Council (FSC)-certified mills in the USA. When lit, its crackling effect  sounds like you're sitting around a campfire or near a wood fireplace! It's a pretty relaxing sound.

These wood wicks also create a unique, horizontal teardrop shaped flame for some luxurious ambiance. Wood wicks also produce less smoke and soot!

PATENTS: https://www.lumetique.com/patents
TEALIGHT WICKS

The tealights in our Discovery Sets use lead and zinc-free wicks, made from pure natural cotton.
OUR FRAGRANCES
FRAGRANCE OILS

We use high quality fragrance oils that are are extremely rich, complex, and longer-lasting. They are paraben-free and phthalate-free which makes them safer for you, your pets and the environment!

Please note: Natural candles made out of soy, coconut, or vegetable oils tend to have subtle scent throws as opposed to paraffin based waxes. Scent throw is used to describe how the candle smells while the wax is solid (cold throw) and how much aroma is given off after it has been lit (hot throw). Please keep in mind that open windows, fans, etc. might affect the candles scent and how much of the area it will fill.
OUR PACKAGING
METAL TINS

Our travelling tins are a great lightweight option if you want to bring your LUHO candle with you on a trip, to the office, etc.

Our candle tins and amber glass jars are recyclable/reusable.

Check out our FAQ for information on how to repurpose your containers or participate in our container recycling program. 
AMBER GLASS JARS

Our amber glass jars are beautiful when lit, especially in darker rooms, setting the mood with its warm ambience. 

Our candle tins and amber glass jars are recyclable/reusable.

Check out our FAQ for information on how to repurpose your containers or participate in our container recycling program. 
PACKAGING MATERIALS

We want everything we do at LUHO Candle Co. to have as little impact on the environment as possible, so we take a sustainable approach when choosing our packaging materials.

Our containers, stickers/labels, and care cards are 100% recyclable. Our shipping boxes are made of recycled content and are recyclable as well! Additionally, we use recyclable tissue paper, water-activated tape, and packing peanuts that are entirely plant-based and made of organic starch. These FDA compliant packing peanuts decompose in water in minutes!

We encourage you to reuse what you can, and recycle what you can't. We are constantly working to find ways to improve and reduce ourenvironmental impact, so if you have suggestions, feel free to let us know! :)